Torres Strait Island Regional Council – Not Your Ordinary Council
"These Islands Identify who we are, and our important role we play today and moving into the future." - Phillemon, Community Advocacy Officer.
Our People
Our 15 unique & individual Communities sit within 5 Nation clusters, as represented by the 5 points of the star in both our logo & flag - These nations are; the Gudaw Maluligal Nation of the Top Western Islands, the Maluligal Nation of the Western Islands, the Kemer Kemer Meriam Nation of the Eastern Islands, the Kulkalgal Nation of the Central Islands, and the Kaiwalagal Kaurareg Aboriginal Nation of the Inner Islands.
Our region is home to two traditional language groups and six local dialects;
Meriam Mir - Mer and Erub dialects
Kala Lagaw Ya - Kulkalgau Ya, Kalaw Kawaw Ya, Kawrareg and Mabuyag dialects
A specific Torres Strait dialect of Creole is also commonly used throughout the region, predominantly spoken in a 'broken' format.
We are the largest employer in the Torres Strait region, with over 80% of our roles are fulfilled from within our local communities, and we proudly support gender parity with over 40% female employees and managers. TSIRC plays a large role in assisting the delivery of prosperity to our communities, this extends to the facilitation and retention of key skills within our region and driving a corporate culture of operational efficiency and service delivery excellence. We live this daily through our values:

Our Islands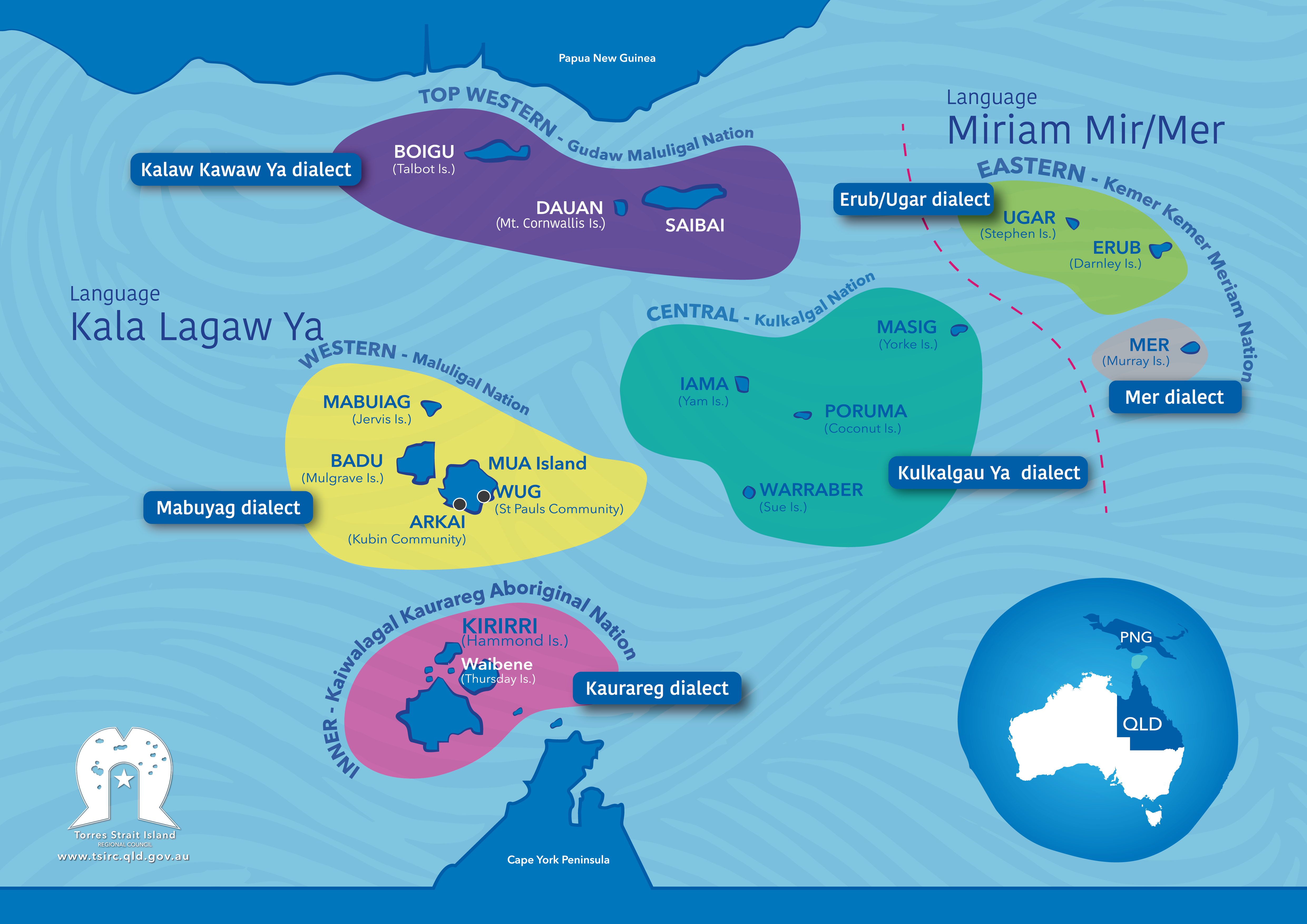 The Torres Strait is not just a group of islands on a map; the islands are deeply woven into our identity, hosting many significant cultural sites, and an ecosystem that spans thousands of years.
Our Islands are scattered throughout 42,000km2 of sea, sitting between the tip of Queensland's Cape York Peninsula and Papua New Guinea; with the narrowest point being 150km and extending 200-300km from farthest east to farthest west. Our geographical positioning also means that we share an international border, which we manage via treaty with Papua New Guinea.
We have four distinctive types of islands within our region:
An eastern group of high volcanic islands

A central group of low sandy islands

A western group of high islands composed of volcanic & granitic rocks

A northern group of low islands composed of mangrove muds & peats

Click on the video below to learn more about our extraordinary region and why TSIRC is not your ordinary Council:
Our Future
Our uniqueness extends to the delivery of more than traditional local government services such as roads, water and waste; we are also acutely invested in social, environmental, economic and cultural development within our region.
Council's Vision is for our Communities and Council to be Autonomous, Prosperous and Sustainable; Which we achieve through the daily delivery of our Mission To improve our Communities' livability in all we do. Click on the video below to learn more about TSIRC's Vision, Mission and Values:
The Torres Strait Island Regional Council (TSIRC) acknowledges our Native Title Holders, our Elders past and present, and all members of the communities we serve within the 5 Nations of the Torres Strait; We recognise their continuing connection to land and sea, and the strength of a cultural heritage and belief system that spans past, present and future generations.
Torres Strait Islander and Aboriginal audiences should be aware that this website may contain images or names of people who have since passed away. TSIRC respects the right of families and communities to request the removal of any name or image from this website that causes distress.